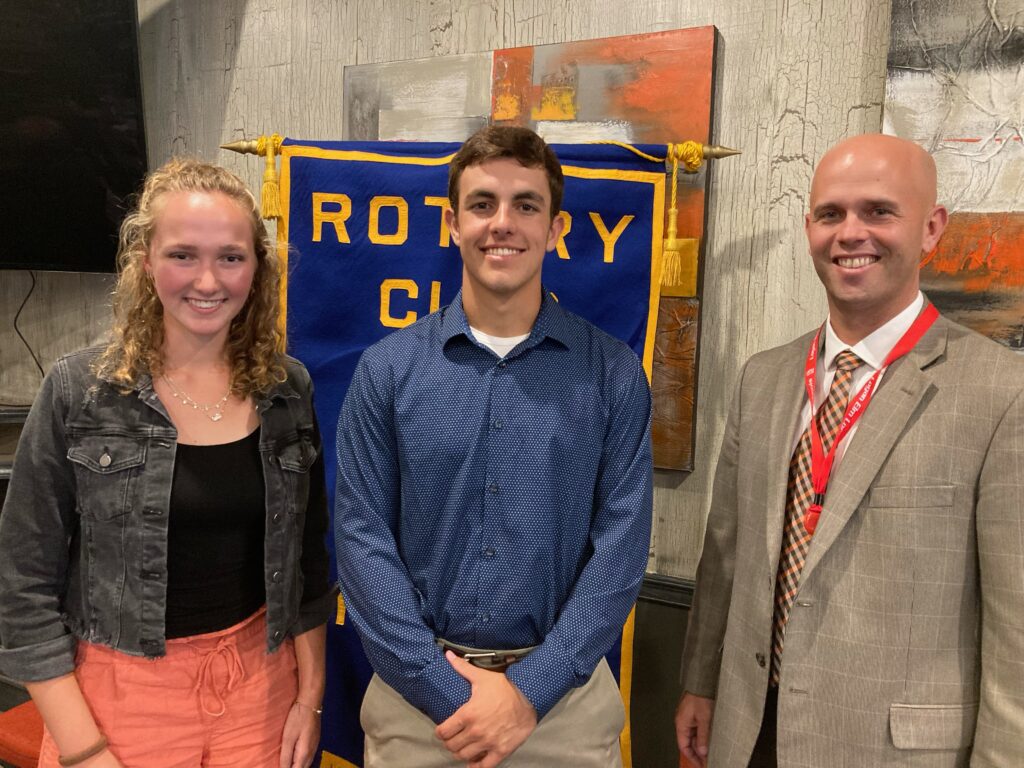 ---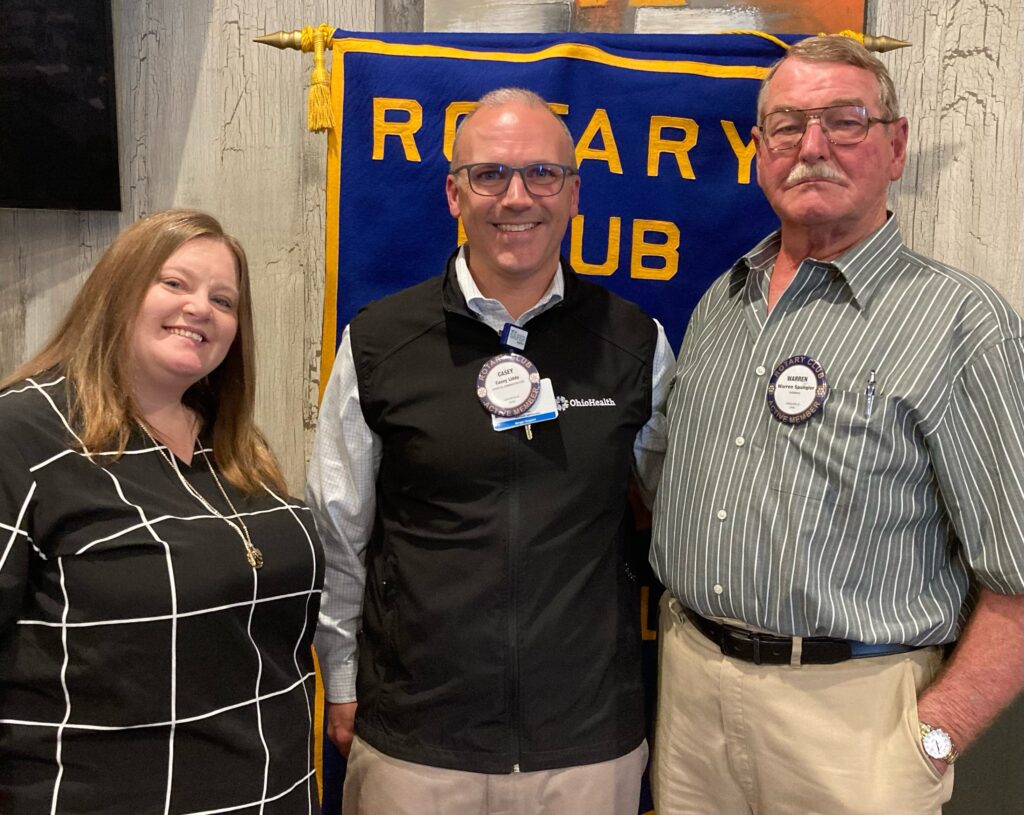 ---
09-14-2023
Marie Nemes-Crawford, Editor
September Calendar – Michelle Blanton, Program Chair
Sept 21: Community Cupboards, Kenneth Tennant
Sept 25: *Community Kitchen. Presbyterian Church 4:00pm
Sept 28: ArtsAround, Dale Herron
October Calendar – Bob Foster, Program Chair
Oct 5: Yolanda Johnson, Ohio State School for the Blind Band
Oct 12: Kim Frericks, Pumpkin Show Announcers Trustee
Oct 19: No Meeting – Big Wheel Race at 1:00pm Pinckney St. Stage
Oct 23: * Community Kitchen. Presbyterian Church 4:00pm
Oct 26: TBD
*extra event
——
Presiding: President Warren Spangler
Prayer: Dan Fouts
Piano: Ellery Elick
Song Leader: John Lambert "Let me call you sweetheart", "We are Rotary"
Attending: (Drexel has official list) 47 today – Spangler, Poling, Crawford, Nemes-Crawford, Fouts, Elick, Canfield, Liddy, Wilson, Duvall, Lambert, Dean, B.Liggett, Blanton, I.Webb, Young, K.Neff, Weaver, Robinson, Schreiner, Ford, Palm, Ellis, Mavis, Riegel, Foster, T.Tootle, Sneed, Searls, D.Webb, Fountain, Wolford, Ankrom, D.Wolfe, Reitano, Rothe, McNemar, C.Chamberlain, Marosher, E.Liggett, B.Tootle, Radcliff, Mabe, Davis, Brown, Beavers, Hafey
Guests: Caleb Nickell introduced by Ty Ankrom
Visiting Rotarians: Catherine Farynowski from Orlando. FL club
Students: Nate Smith, Principal at Logan Elm introduced Clara Wilson and Carson Summers
Announcements
Daryl Wolfe thanked Gary Montgomery, Rob & Dodie Radcliff, David & Marie Crawford, Monday, Sept. 11th – Bonus Community Kitchen served 130+ meals
Angela announced Socktober District competition. Please donate new socks or see Angela or Marie for monetary donations (they'll shop for you!)
Sept. 19th – Tuesday is board meeting
Ice Cream Tickets – $5 see Daryl or Bob McCrady. Purchase for friends and neighbors.
Daryl reported Pumpkin Show Booth needs a Friday and a Saturday shift filled
Daryl also reported Sept. 28th – shift supervisor meeting – learn credit card procedure, how to weigh the ice cream and other fun tasks.
Daryl announced next week we will start accepting credit card payments for lunch. You will be charged one dollar more to cover the credit card fees
David Crawford announced a District campaign – Sept.-Nov. bring a guest. The club with the most guests, per capita, will win a social event!
Tony Robinson invited us to Forest Cemetery at 1pm this Saturday (16th) to honor three men in the Revolutionary War
Warren encouraged members to attend Ro-Talks, Sept. 30th in Lancaster 9:00am-1:00pm Discussion about mental health and peace
Jayme Fountain reported our Rotary Foundation goal is $6,300 and we are 20% there. Our Polio Plus goal is $3,100 and we are 46% there. Remember, the 125 Club can be your avenue to support both the Foundation ($100) and Polio Plus ($25).
SAA: Grant Davis (his first time up) and keeping with the program today
Anyone with an OhioHealth doctor $1
Anyone who ever served on the Berger Board $1
National Cream filled donut day – if you ate a donut today $1
National Rose Tequilla day – if you have ever had a tequilla $1
National Sober day – if you never drank tequilla $1
1716 – first ? Was built in the US – lighthouse
What president died on Sept 14th after being shot? McKinley
What famous national anthem was written? Star Spangled Banner
What starting NFL quarterback has a birthday today? Watson
Happy Dollar – Tony Robinson has enough detail of his family history to prove he is a descendent of Mayflower families!
Scholarship Drawing: Dave Webb was the winner of $26! The jackpot is $78 it will continue to grow.
Program: Casey Liddy, President of OhioHealth Berger
In a Year:

2,200+ admissions
Over 300 deliveries
2,500+ surgical procedures
22, 700+ emergency visits
90,000+ outpatient visits (lab, x-rays, mri's, etc)

Berger has 83 licensed beds
545 associates
5 primary care offices
Community Partnership – OhioHealth is leasing the operations from the city and county. Goals that are reported to the oversight board are offering employment opportunities, physician recruitment and capital investment goals
Oct. 3rd OhioHealth Circleville Urgent Care is opening in the Wal-Mart shopping center
Integration with local community is important to OhioHealth. If you see a need, reach out to Casey
Workforce Development – high school students, Pickaway Works, OU Chillicothe
Berger has no travel nurses because they are developing relationships down the line into high school and offering opportunities in medicine and other careers
What's next for OhioHealth Berger

Urology – Prostate Cancer (2nd most common cancer in the US. – 595 patients treated FY22)
Urgent Care – Opening October 3rd in Wal-Mart shopping center (9am-9pm – 7 days a week)
OR modernization
OR waiting room remodel

Continuing to grow LOCAL CARE and enhancing Women's Care
****
In appreciation for the speaker today, a donation will be made to the Foster Care Program of Pickaway County through Jobs and Family Services