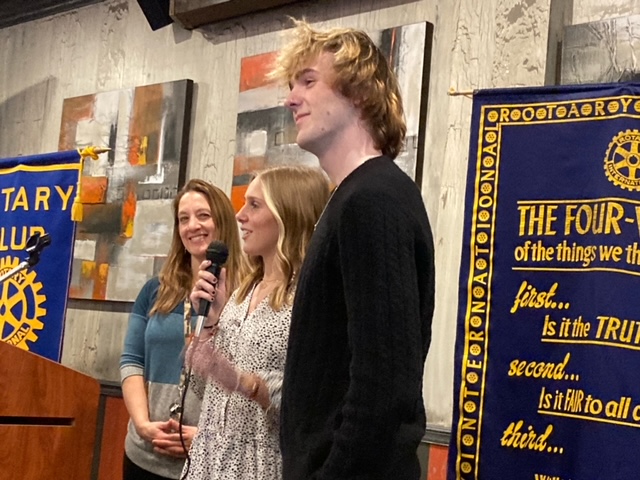 ---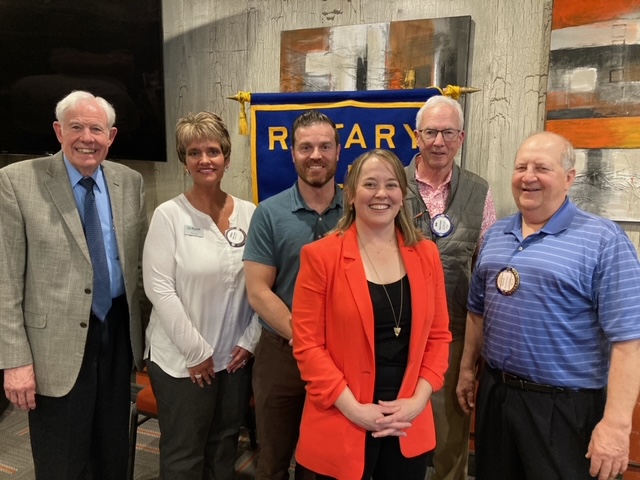 02/23/2023
Marie Nemes-Crawford, Editor
February calendar – Ian Webb, Program Chair
23rd: Erin Edwards- Food and Drink Editor at Columbus Monthly
23rd*: After Hours at El Pedregal 5:30pm-7:00pm
27th*: Soup Kitchen
March Calendar – Bob Sneed, Program Chair
2nd: Rural Urban Day
9th: Ana Dutra – Brazil Rotary Student Exchange
13th*: Soup Kitchen
16th: New Hope Students – Guardians on Honor Flight
23rd: Megan Moorman – CHS FFA
27th*: Soup Kitchen
30th: Terry Klinker – Hurricane Katrina
Upcoming Dates:
April 28-29, 2023 – District 6690 Conference – Veteran's Memorial
June 16, 2023 – Golf outing at Pickaway Country Club
——
Presiding: President David M. Crawford
Prayer: Dan Fouts
Piano Player: Ellery Elick
Song Leader: Bob Foster: "I've Been Working on the Railroad", "We're Rotary"
Attending: (Drexel has official list) Crawford, Nemes-Crawford, Poling, Spangler, Palm, Wilson, Elick, Fouts, Canfield, Ellis, Johnson, Mavis, Neff, McCrady, C.Neff, Routt, Foster, I.Webb, Riegel, R.Wolfe, E.Liggett, Beavers, Patterson, Rawlins, Montgomery, Young, C.Chamberlain, T.Chamberlain, Sneed, Patterson, Hedges, D.Webb, White, McNemar, Lanman, Fountain, T.Tootle, McIlroy, Halley, Horning, Maxson Seifert, Brown, Blanton, Droste, Ankrom, Marosher, Mabe, Kramer, Hafey
Guests: Fred Mavis introduced Mike Whitten who has applied for membership; Carly Neff introduced Karlyn Neff who will be inducted soon; Earl Palm introduced Chetty Jaracz and Christian Carey ; Gary Dean introduced Tom Duvall
Students: from Circleville High School today – Ryan Roy and Carley Hinton with Guidance Counselor Kara Schooly. The students invited us to "State of the Schools" – Wednesday, March 1st, 6:00pm at Circleville High School Auditorium
New Member Day!!! We inducted three new Rotarians today – Dave Horning (Bob Sneed sponsor), Makiah Maxson Seifert (Carly Neff sponsor), Paula Routt (Drexel Poling sponsor).
Board meeting highlights
Discussed annual increase in per-member charges to our club by Rotary International and District. Fees will be increasing over the next few years, $160 for 2023-24. Current exec. board strategy is to offset additional fees with broader effort to recruit new members.
Heidi reported the scholarship committee (chaired by Connie Chamberlain) is getting applications mailed out.
Board voted to request applications from members for a "Service Above Self" award to honor a non-Rotarian who has made a positive and enduring change in the lives of others. Last award was presented in 2017 to Mollie Hedges.
District meeting is in Columbus April 28-29. All Rotarians are encouraged to attend.
Warren is attending All-Ohio president-elect meeting March 10-11
Ian Webb is holding an orientation session for a few new members as we rework the orientation process to make it more effective and timely.
Applications for several proposed members pending
Ellery reported attendance at March 2 Rural/Urban Day will be similar to past years. More than 50 guests expected.
Tony Robinson is chairing 4-Way Speech Contest. Entries are filtering in.
Ellery asked for a motion to move any existing accounts at U.S. Bank to other local institutions for more flexibility if/when treasurers change. All members approved.
Board discussed the current vacancy on the executive board due to Ellery leaving his director position on the board to assume the treasurer position. With only four months remaining in the current Rotary year, the board decided to take no action on appointing a replacement. A full board will be in place on July 1.
Announcements
Rural Urban Day lunch meeting is Thursday, March 2nd – 11:30am at Presbyterian Church, Mike Estedt from Pickaway Co. OSU Extension is guest speaker.
In preparation for the Honor Flight program March 16th, Marie passed out note cards for members to write a Thank You for veterans on the April mission
Need committee for "Service Above Self" award. If interested in serving on the committee to pick this year's recipient, please let David know.
Gary announced soup kitchen is Monday, 27th (fourth Monday) 3:30pm – 5:00pm. 70+ meals are now being served
SAA: Angela Beavers
Badges
What year was mass inoculation for Polio started? 1954
National Chili Day – Chili was named after Chili
Texas named Chili the state dish in 1977
What state put chili on spaghetti? Ohio. (Skyline)
Scholarship Drawing: Michele Lanman was the winner of the drawing $30. The jackpot is $987 and it continues!
Program: Erin Edwards- Food and Drink Editor at Columbus Monthly
Erin has never been to the Pumpkin Show! She will be down this year.
How can you choose "The Best" new restaurants? Am I still talking about a dish a month after I had it? Am I recommending the restaurant to everyone I talk with? Also look for Bars with cocktails that are unique.
Fyr- inside the new Hilton Columbus Downtown Tower in Short North. Wood fired cooking. South American inspired. Argentinian chef.
Joya's Cafe – Local Chef Avishar Barua was on the 18th season of Top Chef. Great breakfast sandwich, fried rice, chai. Breakfast/lunch place in Worthington.
Subourban Southern Kitchen – Linworth. Southern inspired, corn bread, fried chicken with peppercorn gravy.
Jhapali Kitchen & Bar – Pickerington. Specializes in Nepalese & Indian fare.
Best bars – Understory. Beautiful old school building on Olentangy River. Old North neighborhood.
Three things to look forward to in 2023: 1. more Cameron Mitchell, 2. downtown making comeback, 3. more wood fired kitchens
Speck Italian Eatery on High Street. Homemade pasta. First opened in Delaware, then moved to downtown.
Preston's: A Burger Joint- moved out of North Market to Clintonville. Smashed burgers.
Beer lovers – Columbus Brewing Co. Beer Hall next to Franklin Park Conservatory and East Market (in old trolley building).
Cameron Mitchell – four new restaurants this year. Two Italian, a new Mediterranean and a steakhouse
Changes in Easton restaurants. Weenie Wonder for hot dogs and shakes
Indian food standouts – Aab in Grandview, Indian Oven in downtown
Columbus Monthly magazine has a circulation of 20,000
"Copy and Taste" is Erin's weekly newsletter https://profile.columbusmonthly.com/newsletters/manage/
**********
In appreciation of this year's speakers sharing their time & efforts, donations to Pickaway Pathways for Success will be made in their names.