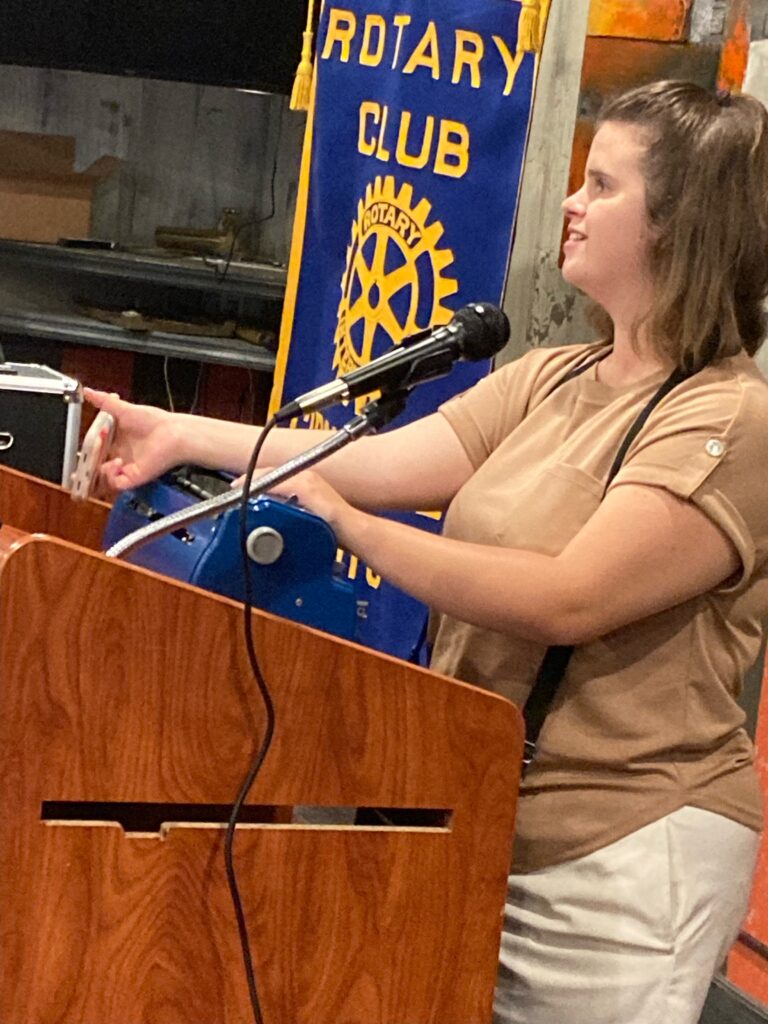 07/27/2023
Marie Nemes-Crawford, Editor
August Calendar – Ty Ankrom, Program Chair
Aug 3: Dennis Lowe – Drug Task Forcre
Aug 10: Maggie Simmons – PAAC – Community Input
Aug 17: Sarah Walsh – Cook Center for Human Connections
Aug 24: Steve Helwagen – OSU Football
Aug 28: *Community Kitchen
Aug 31: Jennifer Lloyd – Recovery Ohio
*extra events
——
Presiding: President Warren Spangler
Prayer: Tony Robinson
Piano: MaKenzie Love & Ellery Elick
Song Leader: Stacy Young called in "Home on the Range", "Sing out a song of Rotary"
Attending: (Drexel has official list) 37 today – Spangler, Poling, Crawford, Nemes-Crawford, C.Chamberlain, Canfield, Fouts, Robinson, Wilson, Lambert, Dean, Duvall, B.Liggett, Schreiner, Riegel, McCrady, Routt, Foster, I.Webb, Elick, D.Wolfe, Radcliff, Droste, Montgomery, Weaver, Rawlins, White, K.Neff, Brown, McNemar, Lam, T.Chamberlain, Horning, Hooks, Mabe, B.Tottle, Searls
Guests: Josh Ford ; April Kisor, Jane Love & Pat Tejeda
Announcements
Gary Montgomery thanked Bob Sneed, Bob McCrady, Tom Duvall, Daryl Wolfe, Warren Spangler, Angela Beavers, David & Marie Crawford, Sandy Montgomery & Alice Harker. Over 100 meals were prepared.
Margaret Raimey is celebrating her 100th birthday and Sunrise Rotary is promoting her open house Saturday, Sept. 2nd, 1-4pm, Nazarene Church, Walnut Creek Pike.
Honor Flight cards for Paul Vance – this week and next. Paul learned of Honor Flight at one of our meetings and his mission is Sept. 7th
Rob Radcliff – sign-up for Pumpkin Show Booth has already started! Don't wait, sign-up today for the biggest fundraiser of the year.
SAA: David Crawford
Seven Pillars of Rotary (he didn't make a dime)
Scholarship Drawing: Connie Chamberlain was the winner of $26. The jackpot is $1,672 and it continues!
Program: MaKenzie Love – Teays Valley junior and National Braille Reading Finalist
MaKenzie was born blind and started Braille training at age 4. It took 4 or 5 years to excel and her passion to read grew and currently takes AP classes at Teays
Braille Institute competition from Canada, UK, America
First place in State of Ohio in varsity level
Invited to National Challenge in Los Angeles this past June
MaKenzie enjoyed SOAR (Summer Orientation & Mobility and Adapted Living Resource Program). Highly intensive, structured, residential training program that provides specialized instruction to youth ages 16-21 who are legally blind.
Learn how to sort clothes, manage money, cook, etc.
Independence is increased with knowing how to use the technology available
Plays piano by ear
Unified Braille code was used throughout the world and in 2015 the US changed from American Braille
MaKenzie plays symbols in the marching band- Teays Valley has a guide with her for marching and she plays xylophone in the pit during halftime shows
Plans after high school – master's degree in secondary education in either history or teaching others to read braille
****
In appreciation for the speaker today, a donation will be made to the Foster Care Program of Pickaway County through Jobs and Family Services