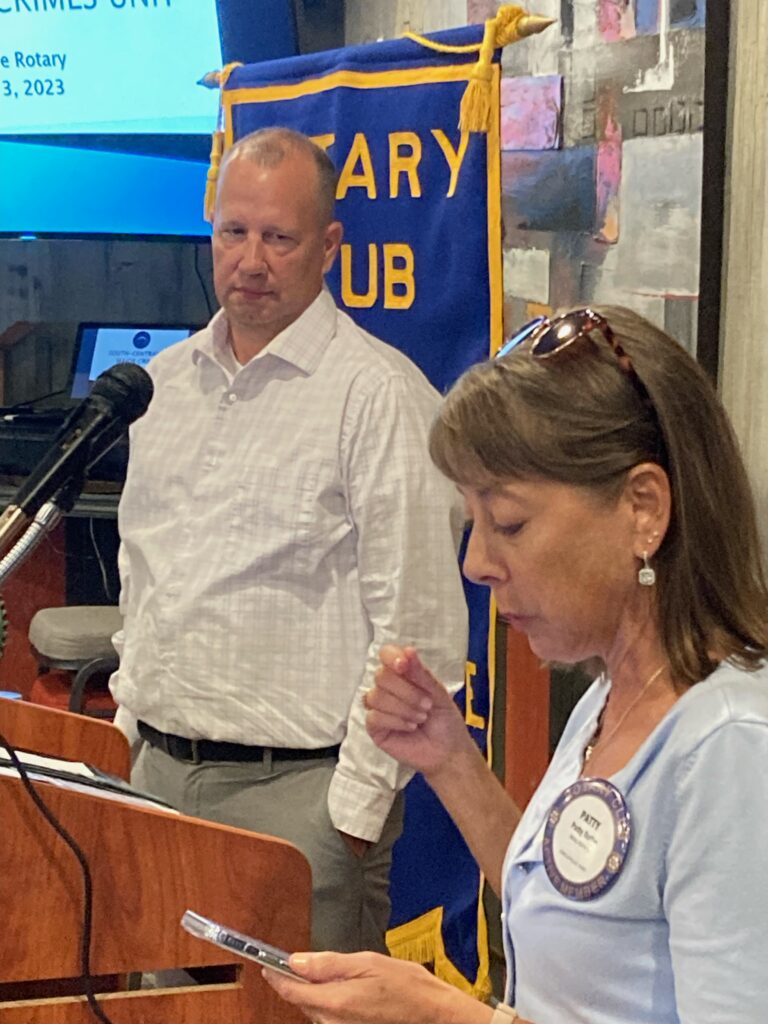 ---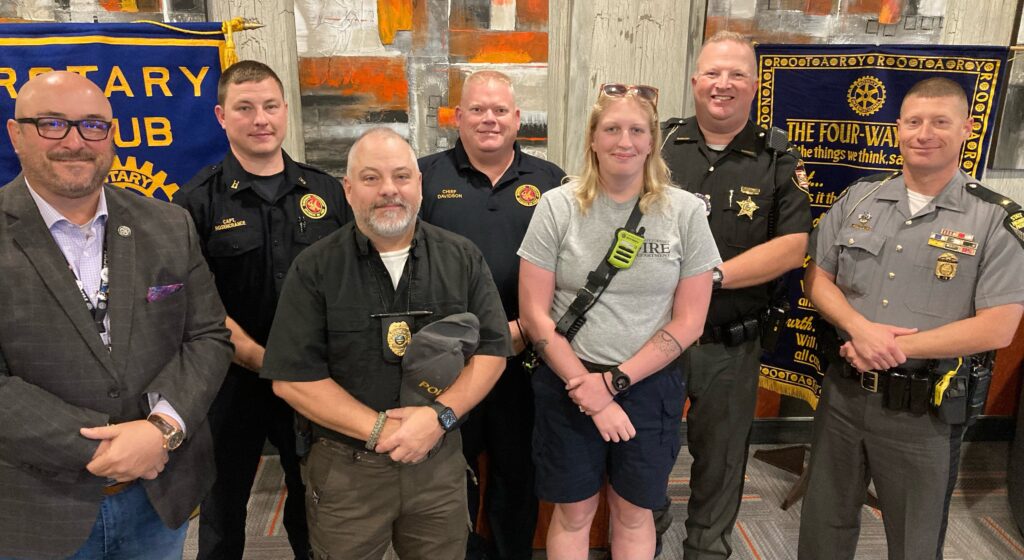 ---
08/03/2023
Marie Nemes-Crawford, Editor
August Calendar – Ty Ankrom, Program Chair
Aug 10: Maggie Simmons – PAAC – Community Input
Aug 17: Sarah Walsh – Cook Center for Human Connections
Aug 24: Steve Helwagen – OSU Football
Aug 28: *Community Kitchen
Aug 31: Jennifer Lloyd – Recovery Ohio
*extra events
——
Presiding: President Warren Spangler
Prayer: Gary Montgomery
Piano: Ellery Elick
Song Leader: Tom Duvall "I'm waiting on the railroad", "R-O-T-A-R-Y"
Attending: (Drexel has official list) 43 today – Spangler, Poling, Crawford, Nemes-Crawford, Beavers, C.Chamberlain, Hafey, M.Rhoads, Elick, Fouts, Canfield, Wilson, Duvall, Droste, Colburn, Lambert, Dean, White, C.Neff, Horning, Ankrom, Young, Rothe, Koch, Sneed, Weaver, Robinson, Palm, Montgomery, Mavis, Schreiner, T.Tootle, Brown, McNemar, T.Chamberlain, D.Webb, Rawlins, B.Tootle, Riegel, R.Wolfe, McCrady, K.Neff, Radcliff
Guests: Law enforcement from Pickaway Sheriff, Harrison Township Fire, Ashville Police, Pickaway Township Fire, State Highway Patrol; Vickie Robinson accompanied her husband
Visiting Rotarian: from Hilliard – Charlie Hedges
Induction: Josh Koch – born in Escanaba, Michigan and graduated from Chillicothe High School and Ohio University. Worked with Chillicothe Radio and is now with US Bank. Welcome Josh!
Approved for membership: Josh Ford has been approved for membership by the board. Josh is night auditor for the Hampton Inn here in Circleville. He is also President of the Ted Lewis Museum Board. He and his wife, Brittany are expecting their first child in September.
Announcements
Honor Flight cards for Paul Vance – finishing this week
Rob Radcliff – sign-up for Pumpkin Show Booth has already started! Don't wait, sign-up today for the biggest fundraiser of the year.
SAA: Bob Sneed. "I'm Bob doing Bob things" – Great Hat!!!
National Watermelon Day
New booths at the Ohio State Fair – have you visited?
Bob Tootle – great round of golf
Ty Ankrom retired
Who attended the old Logan Elm high school? – it's gone
Scholarship Drawing: Fred Mavis was the winner of $28. The jackpot is $1,700 and it continues!
Program: Commander Dennis Lowe – South Central Ohio Major Crimes Unit
Major Crimes Unit – based out of Fairfield County
Support Fairfield, Pickaway, Hocking, Athens
10 sworn and 3 civilian personnel
Blending outreach – supply side of narcotics along with users of the drugs
Project F.O.R.T. (Fairfield County Overdose Response Team)- engage with people using, show them options for treatment instead of an arrest

529 F.O.R.T. Engagements this year
Distributed more than 2,000 Naloxone kits this year
Partner with PARS in Pickaway
Looking for long term solution for the addict

Program started in Ohio and is now being rolled out country wide
Task force is run by grants. Now have 8 grants funding $1.25 million annually
2021 – Task force of the year in the state of Ohio
2022 – Deflection program was named top in the state
2018-2022:

1710 search warrants executed
Indicted 293 individuals
Mandatory sentences of 8-15 yrs

Task force involved with electronic data exploitation. Nothing you post or write is ever really deleted.
Poly drug use – combinations of drugs – is what is happening now
Cocaine making strong comeback
THC concentrates are very difficult to police
America is largest user of illegal drugs in the world
Synthetics are going to take over plant based organic drugs. Cheaper to produce.
****
In appreciation for the speaker today, a donation will be made to the Foster Care Program of Pickaway County through Jobs and Family Services