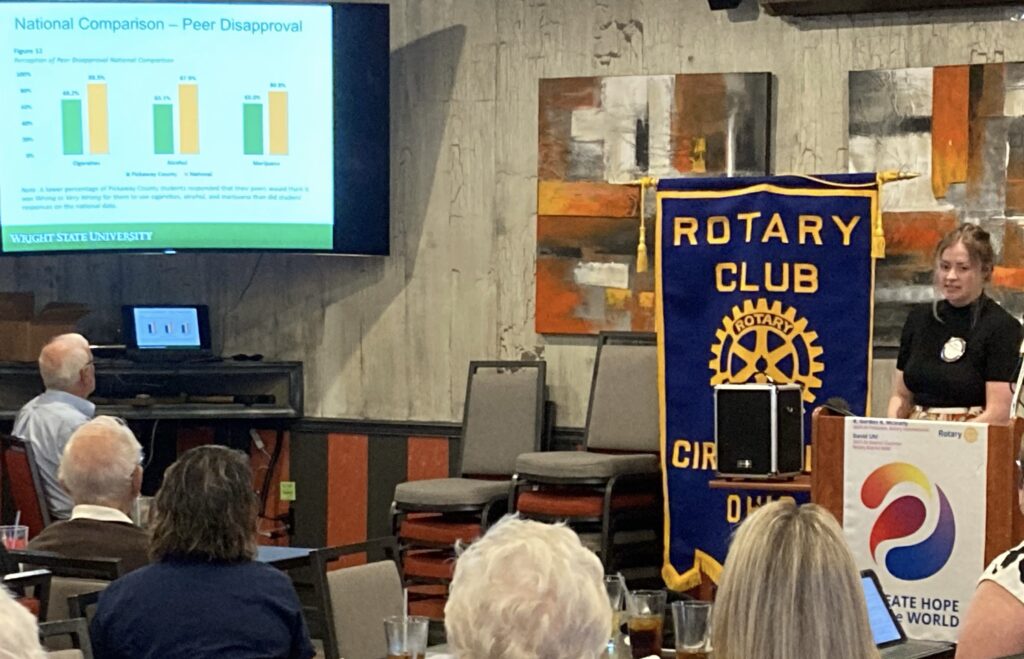 ---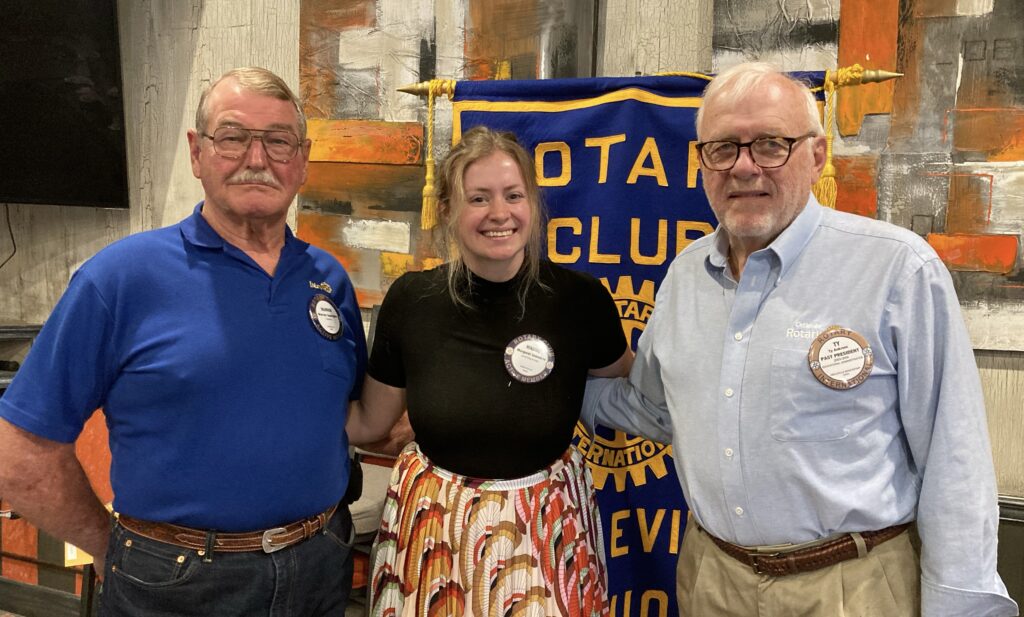 ---
08/10/2023
Marie Nemes-Crawford, Editor
August Calendar – Ty Ankrom, Program Chair
Aug 17: Dan Gilbert – Baseball
Aug 24: Steve Helwagen – OSU Football
Aug 28: *Community Kitchen
Aug 31: Jennifer Lloyd – Recovery Ohio
*extra events
September Calendar – Michelle Blanton, Program Chair
Sept 7 – Ohio Christian University
Sept 11: *Bonus Community Kitchen. Presbyterian Church 3:30pm
Sept 14: Ohio Health, Casey Liddy
Sept 21: Community Cupboards, Kenneth Tennant
Sept 25: *Community Kitchen. Presbyterian Church 4:00pm
Sept 28: ArtsAround, Dale Herron
——
Presiding: President Warren Spangler
Prayer: Joe McNemar
Piano: Ellery Elick
Song Leader: John Lambert "Sing Rotarians", "You're a Grand Old Flag"
Attending: (Drexel has official list) 45 today – Spangler, Poling, Crawford, Nemes-Crawford, Fouts, Wilson, Lambert, Canfield, Riegel, T.Tootle, R.Wolfe, McCrady, Searls, Ankrom, K.Neff, Palm, Ellis, C.Chamberlain, Duvall, Sneed, C.Mullins, Schreiner, Rothe, Dailey, D.Wolfe, Reitano, Simmons, McNemar, Montgomery, Elick, Horning, Droste, Young, I.Webb, Rawlins, D.Webb, Fountian, C.Neff, Justinger, Brown, White, Radcliff, Koch, T.Chamberlain, Kramer
Visiting Rotarian: John Lambert introduced from Jackson, Brandon McGee
Guests: Ty Ankrom introduced Carly Brewster, Pastor at Emmitt Chapel Church; Karlyn Neff introduced Carl Messy, intern from OSU Pharmacy school at Schieber's.
Announcements
Rob Radcliff – sign-up for Pumpkin Show Booth has already started! It's our biggest fundraiser of the year, please help out. You can help prep or clean up afterward too!
Inspiration Station Thank you note – less than $100,000 to their goal so they can start construction. If you know of anyone interested in donating to help make the goal – contact PCCF
Aug. 15th – board mtg
Jayme Fountain – Foundation goal this year $6,300. We are already 12% there. Don't forget the 125 club, donating $100 to the foundation and $25 to polio plus.
SAA: Bob Sneed. "I'm Bob doing Bob Things" – without his hat 🙁
Birthdays/Anniversaries
Aug 10th. National Book Lovers Day and National Lazy Day
Dispatch reported: people in a good mood are willing to donate. Are you in a good mood today?!
High School sports – anyone who played pay $1. Time goes by fast.
Scholarship Drawing: Warren Spangler was the winner of $20+. The jackpot is $1,700+ and it continues!
Program: Maggie Simmons – Pickaway Addiction Action Coalition (PAAC)
Maggie is returning to the State House next week and leaving PAAC
Two schools took survey for grades 7th, 9th, 11th
Self reported and sent to Parent Student Institute to analyze the data to find those results that should be kicked out
Can compare to numbers from 2019
Core Measures

Past 30 day use of tobacco, alcohol, marijuana, RX drugs
Perception of risk using the above
Perception of parental disapproval
Perception of peer disapproval

Did you smoke/drink/use marijuana/prescription drug in past 30 days?

3.6% cigarettes; 16% alcohol ; 7.7% marijuana; 1.7% prescription drugs

12.5% using nicotine vaping
Teens think vaping is safer than cigarettes and don't feel parental disapproval to stop
Perception of peer disapproval is 82.6% of RX 
Used nicotine vaping over three times the rate that they smoked cigarettes and felt vaping was less harmful
Wright State did a national comparison – with our local data compared to city's similar to us

Our teen's alcohol use is almost doubled the national average

Schools do have their results
****
In appreciation for the speaker today, a donation will be made to the Foster Care Program of Pickaway County through Jobs and Family Services