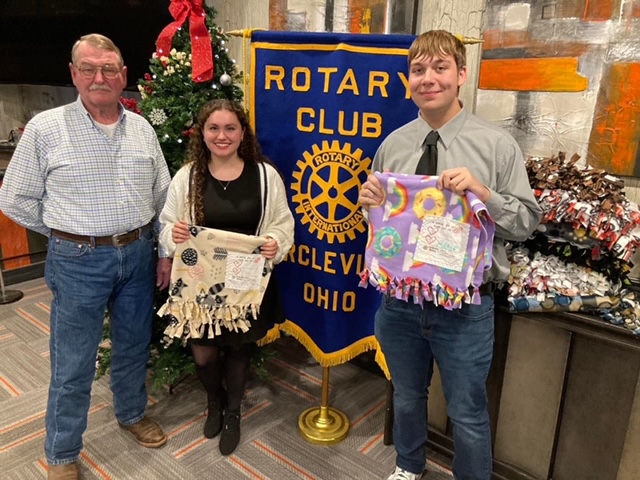 ---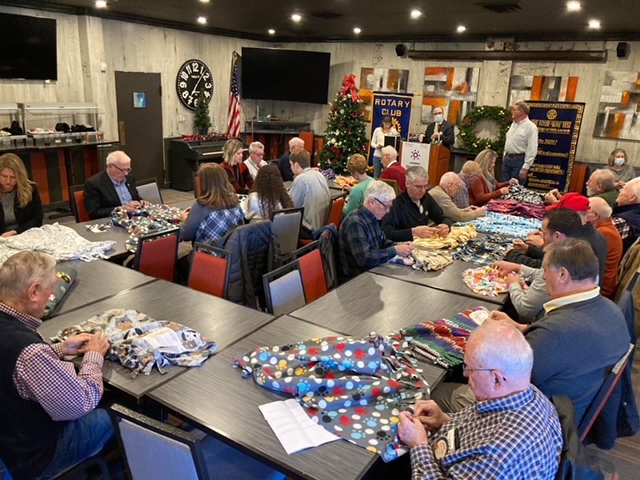 12/01/2022
December Programs
1st – Blanket Project – 39 blankets to tie for CASA
8th – District Governor, Price Finley
15th – Sounds of the Season
17th – Wreaths Across America at Forest Cemetery
22nd – No Meeting – Merry Christmas
29th – No Meeting – Happy
January Programs – Gary Dean, Chair
5th – Krista Bower – Chamber of Commerce
12th – Compassion Furniture in Stoutsville
19th – Maggie Simmons – PAAC
26th – Erica Tucker – District Director of Solid Waste Authority
28th – Dueling Piano's – Sunrise Rotary fundraiser at Fairgrounds
February Programs – Ian Webb, Chair
2nd: Erin Edwards- Food and Drink Editor at Columbus Monthly
9th: Erin Allsop- Big Brothers, Big Sisters
16th: Robert Fanska- Boy Scouts
23rd: Rural Urban Day
Upcoming Dates:
June 16, 2023 – Golf outing
*****
Presiding: President-Elect Warren Spangler
Prayer: Dan Fouts
Piano Player: Ellery Elick
Song Leader: Heidi White selected "The First Noel" & "Joy to the World"
Students: Westfall students introduced by Emily Smith are Steven Layton and Danielle Elder
Attending: (Drexel has official list) Poling, Nemes-Crawford, McIlroy, Fouts, Spangler, Ellis, Palm, Beavers, C.Chamberlain, Fullen, Schreiner, Canfield, Wilson, Riegel, McCrady, R.Wolfe, Hedges, Elick, B.Liggett, Rothe, T.Chamberlain, Foster, Rawlins, T.Tootle, Dean, Maroscher, Ankrom, White, Droste, Wolford, Neff, Rhodes, D.Wolfe, McNemar, Kramer, Mabe, D.Webb, I.Webb, B.Tootle, Hooks, Fountain
Guests: Ty Ankrom introduced us to Stacy Young who would like to be a member
December Birthdays: 12th-Judy Wolford; 13th- John Ellis; 26th – Bob Foster;
December Anniversaries: 9th- Vince & Deborah Yaniga; 17th-Bob & Sue McCrady; 18th-Miles & Nicole Layton; 19th-Kim & Robin Halley; 20th-Charlie & Mollie Hedges; 21st-Tim & Amy Colburn, Jayme & Will Fountain; 22nd-Bob & Alice Foster;
Announcements
Foundation Giving month – please think about supporting the Rotary Foundation by either Paul Harris fellow or 125 Club. Charlie Hedges or Jayme Fountain can help with answers to questions.
Charlie Hedges introduced the latest Paul Harris Fellows – Daryl Wolfe, Warren Spangler, Carly Neff
Board Members Dec. 16th – 6:30pm last meeting of the year here
Community Kitchen – thank you from Daryl Wolfe to Bob Sneed, Angela Beavers, Warren Spangler, David & Marie Crawford
SAA: Warren came up a question
If you don't have Christmas decorations up, pay $1
Scholarship Drawing: Rick Rawlins was the winner of the drawing $24. The jackpot is $776 and it continues!!
Program: 39 Blankets completed for CASA