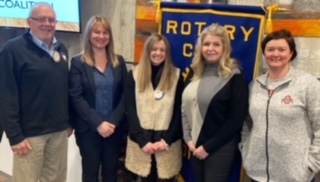 ---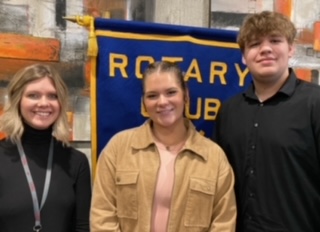 ---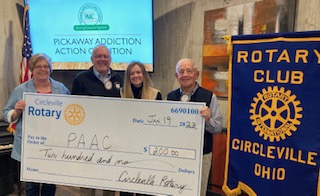 01/19/2023
Marie Nemes-Crawford, Editor
January calendar – Gary Dean, Program Chair
5th – Krista Bower – Chamber of Commerce
12th – Jeremy Joyce – Special Olympics
19th – Maggie Simmons – PAAC
26th – Erica Tucker – District Director of Solid Waste Authority
28th – * Dueling Piano's – Sunrise Rotary fundraiser at Fairgrounds
February calendar – Ian Webb, Program Chair
2nd: Erin Edwards- Food and Drink Editor at Columbus Monthly
4th: * Rotary Foundation Gala – Hocking Hills Lodge
9th: Erin Allsop- Big Brothers, Big Sisters
16th: Robert Fanska- Boy Scouts
23rd: Mikki Vinkovich-Program Manager for Child Protective Services
23rd: * After Hours at El Pedregal 5:30pm-7:00pm
March Calendar – Bob Sneed, Program Chair
2nd – Rural Urban Day
Upcoming Dates:
April 28-29, 2023 – * District 6690 Conference – Veteran's Memorial
June 16, 2023 – Golf outing at Pickaway Country Club
——
Presiding: President David M. Crawford
Prayer: Norm Wilson
Piano Player: Ellery Elick
Song Leader: Jayme Fountain selected "I'm Looking Over a Four Leaf Clover"; "ROTARY"
Attending: (Drexel has official list) Crawford, Nemes-Crawford, Poling, Spangler, Johnson, Rothe, Mavis, Foster, T.Tootle, McNemar, Simmons, Dean, D.Webb, Hedges, McCrady, R.Wolfe, D.Wolfe, Wilson, Elick, Fouts, McIlroy, Canfield, C.Chamberlain, Retanio, Radcliff, Sneed, Riegel, Ankrom, E.Liggett, Fountain, Wolford, Brown, Neff, B.Tootle, Justinger, Hooks, Marosher
Guests: Fred Mavis introduced Mike Whitten; Charlie Hedges's wife Mollie was with us, as was Dave Horning
Students: from Westfall today, Emily Smith introduced Matt Mathes and Makayla Cook
January Birthdays: 5th-Bob Tootle; 13th-Carly Neff; 22nd-Dave Webb; 23rd-Roger Wolfe; 24th-Fred Mavis; 25th-Wayne Vickers; 28th-Bill Kramer
January Anniversaries: 7th-Bob Mabe
New member applicants: Michele Blanton, sponsored by Don McIlroy, has applied for membership and has been approved by the board.
New members welcomed: Michele Lanman and Stacy Young were welcomed into membership today! Thank you Jamie Fountain and Ty Ankrom for being their sponsors.
Board meeting highlights:
Board given midterm update on president's 2022-23 goals
Discussed financials and challenges of an increase of RI and District dues in coming years.
Reviewed 2023-24 officer positions. Voted to assign "executive secretary" title to Drexel. In the short-term, beginning in July, David C. will assume "secretary" title to assist with computer updates and other tasks as assigned.
District meeting is April 28-29 at Veterans Memorial in Columbus.
Approved Michelle Blanton (Don McIlroy sponsor) and Mike Whitten (Fred Mavis sponsor) for membership
After-hours set for Feb. 23 at El Pedregal
Suggested Rotary host members of the new Boy Scout affiliate troop 52 at regular meetings during summer months
Tony Robinson has set wheels in motion for 4-Way Speech Contest. Contest is March 18 at the library
Voted in favor of donating $650 toward purchase of new downtown Christmas lights. Check presentation July 13th.
Voted in favor of $250 donation for Honor Flight Columbus. Check presentation March 16th.
Announcements
Soup Kitchen – this coming Monday – 3:45pm at Presbyterian Church. All are welcome.
SAA: Dave Webb
Big event remembered next week – 45 years ago what happened Blizzard of '78 (a Thursday)
Three school districts opened in 3 state area – Circleville was local
What was temp night before blizzard? 40's
Between 5-6am: temp dropped 21 degrees in one hour
50 mph gusts
Greatest 24 hour snowfall on record
EXTRA anecdote from Fred Mavis: during the blizzard, there was one person who was working in the bank. Earl Palm drove his tractor.
Scholarship Drawing: Roger Wolfe was the winner of the drawing $18. The jackpot is $864 and it continues!!
Program: Maggie Simmons – Pickaway Addiction Action Coalition (PAAC)
Thanks to the work of Mollie Hedges, the insight of Tim Colburn and Ty Ankrom, PAAC was founded in 2015
PAAC was awarded a Federal Drug Free Communities grant in 2021 for $125,000 each year for 5 years
Working with school districts
Be the Change Youth Rally sponsored for 300 students
Training sessions for community – how to talk to kids about drugs, etc.
Drug Take Back Day (fire station, and another site is being worked on with the Sheriff office) April 20, 2023 10am-2pm
Deterra Distribution Bags for expired meds are back in stock
Goal is to create a youth coalition and town hall meetings or forums
Www.drugfreepickaway.com for upcoming events and information
**********
In appreciation of this year's speakers sharing their time & efforts, donations to Pickaway Pathways for Success will be made in their names.