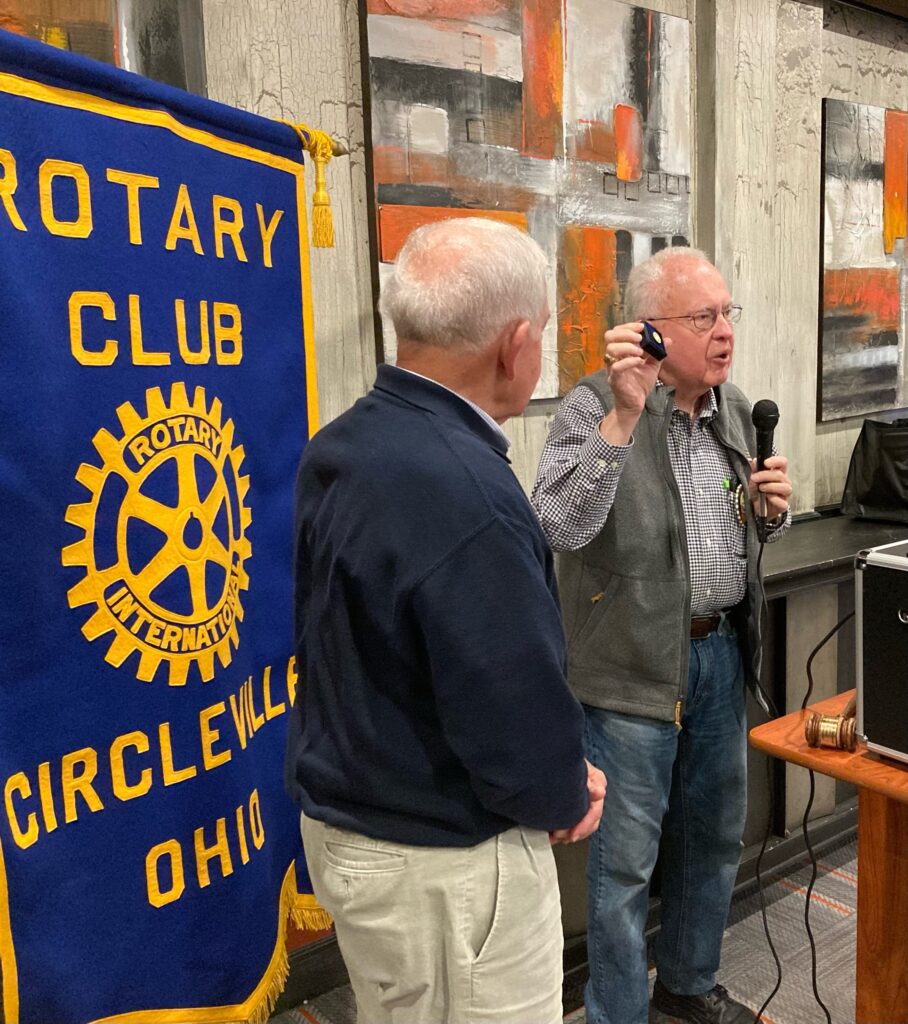 ---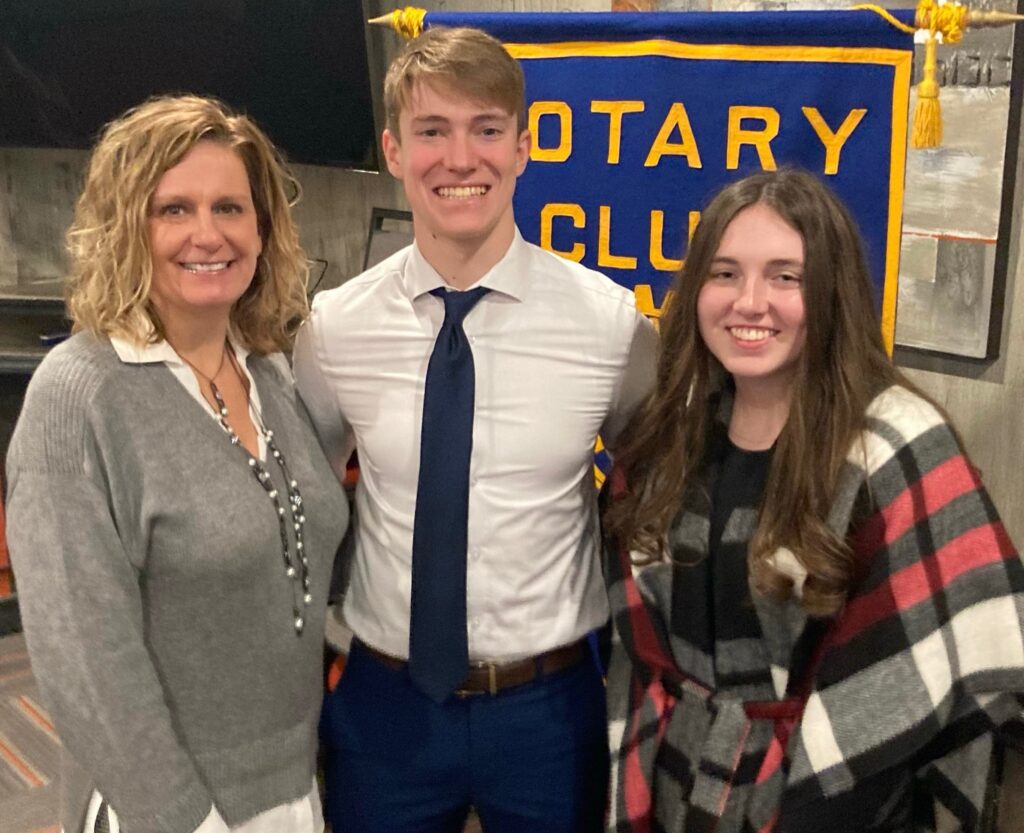 ---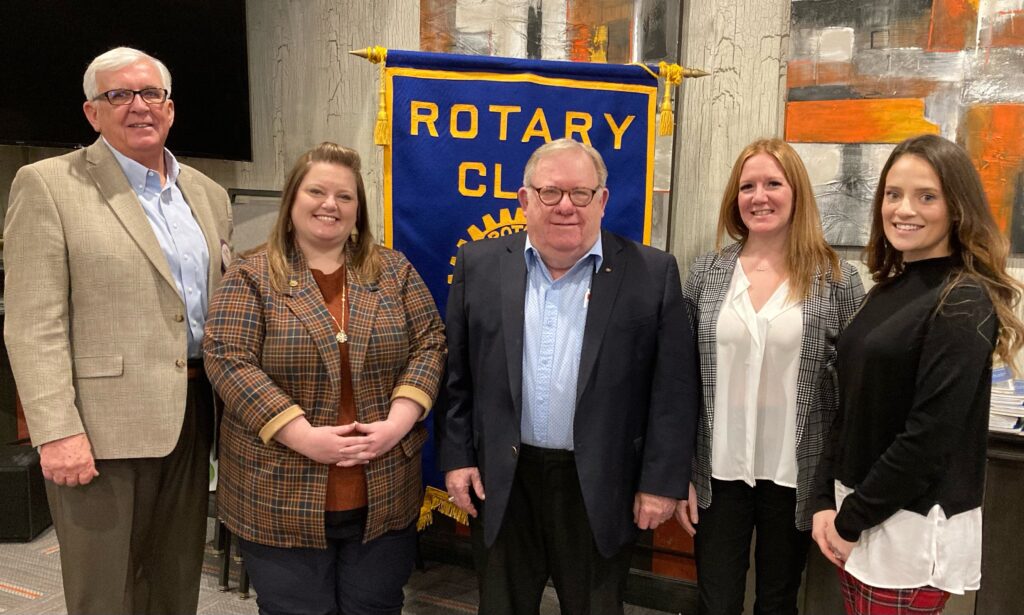 01/26/2023
Marie Nemes-Crawford, Editor
February calendar – Ian Webb, Program Chair
2nd:  Mikki Vinkovich-Program Manager for Child and Protective Services
4th: * Rotary Foundation Gala – Hocking Hills Lodge
9th: Erin Allsop- Big Brothers, Big Sisters
16th: Robert Fanska- Boy Scouts
23rd: Erin Edwards- Food and Drink Editor at Columbus Monthly
23rd: * After Hours at El Pedregal 5:30pm-7:00pm
March Calendar – Bob Sneed, Program Chair
2nd – Rural Urban Day
Upcoming Dates:
April 28-29, 2023 – * District 6690 Conference – Veteran's Memorial
June 16, 2023 – Golf outing at Pickaway Country Club
——
Presiding: President David M. Crawford
Prayer: Harry Canfield
Piano Player: Ellery Elick
Song Leader: Daryl Wolfe selected "On the Sunny Side of the Street" and "Rotary Goes Around the World"
Attending: (Drexel has official list) Crawford, Nemes-Crawford, Poling, Spangler, Elick, Canfield, Fouts, Wilson, R.Wolfe, McCrady, Montgomery, Hedges, Beavers, Riegel, Hooks, Johnson, Young, McNemar, E.Liggett, D.Webb, I.Webb, D.Wolfe, McIlroy, White, Radcliff, Fountain, Foster, Neff, Mavis, Lanman, Ankrom, B.Tootle, Dean, Mabe, Schreiner, Retanio
Guests: Dave Horning
Students: from Teays Valley today Pam Younkin introduced Carli and Ben
New Member welcomed: Michelle Blanton was welcomed into membership today. She is sponsored by Don McIlroy.
Thank you from Kentucky: After our generous pass the hat donation in August of $670 for the tornado destroyed area we received a thank you from Pikeville Rotary. We have now received appreciation from the Pikeville Community Foundation. The foundation has started the Appalachian Crisis Aid fund to support Eastern Kentucky rebuild for years to come. Appalachianky.org.
Announcements
Charlie Hedges awards Dannie Fouts with his Paul Harris +8 pin!
Gary Montgomery thanked the Soup Kitchen crew this month: Carly & Ava Neff, Warren Spangler, Gary & Sandy Montgomery, Rob & Dodie Radcliff, Daryl Wolfe, Judy Wolford, Ty Ankrom, Bob Sneed, Stacy Young. All under Alice Harker's direction.
Rob Radcliff has signed up Circleville Rotary to work in the Community Kitchen the second Monday every other month starting March 13th. There was an opening on the schedule and our team can fill the need.
Ned Riegel – Pathways Behavioral Health received the sign board for non-verbal children we donated. Official photo to come.
Pancake breakfast Boy Scouts – Feb. 4th, 7am-10am and Boy Scouts also taking orders for water softener salt
SAA: Dave Webb
Brown's didn't make the playoffs
Happy dollar for all the great students in the county
Bengal's fans
1962 – Beetles turned down by what record label? DECA
Apple computer incorporated when? 1977.
Golden Gate Bridge started construction when? 1933
First VW Beetle in US – 1949
Prohibition started 1920
First can beer sold – 1935
1964 – Beetles first number one record – Hold Your Hand
Scholarship Drawing: Bob Johnson was the winner of the drawing $20. The jackpot is $884 and it continues!!
Program: Erica Tucker – District Director of Solid Waste Authority; Lauren Haubeil-Grooms – Assist. Director
Ross, Pickaway, Highland, Fayette counties are all under the direction of RPHF Solid Waste District
Recycling location off Morris Rd., Circleville is a constant battle to keep the trash from being discarded
Other area recycling options are Island Rd; Rumpke; PICCA; Rhoads
What we recycle is based on what we have a market to sell – it is different per county which leads to confusion
2018 – China was a large source for our recycled material, then stopped because of trash that was included in the bales of recycling
Look at the stickers on the bins as to what can be recycled
Plastic film/bags should NOT go into the bins, they can be taken to Kroger/Walmart
If you bring your recycling in a bag, please take the bag home with you
Some sites do have camera's and law enforcement will be given evidence of dumping
Fayette County Recycling Center is a new concept that is being replicated by other counties. It is a membership system, fenced with camera's and key fobs for entry.
Greenhouse plastic's ARE NOT recyclable in Ohio; McDonald's cups ARE; Yogurt cups ARE; Solo cups ARE NOT
The numbers on the bottom of plastics are defining the resin used, not if they are recyclable or not anymore
Events coming up from RPHF Solid Waste District

May 20th – 8am-noon. Tire & Electronic Disposal. Pickaway Co. Highway Dept. on Island Rd.
Sept. 9th – 8am-noon Ross County household hazardous waste

Www.RPHFsolidwastedistrict.com for information and events
Household Batteries? Tire and electronic event or bring them to the office in PIckaway County Annex- suite 400 Main St.
**********
In appreciation of this year's speakers sharing their time & efforts, donations to Pickaway Pathways for Success will be made in their names.