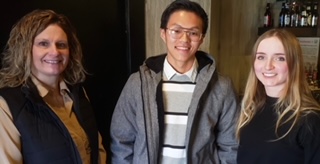 ---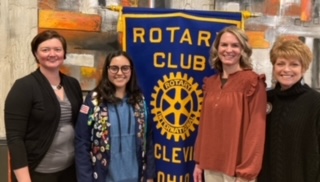 03/09/2023
Marie Nemes-Crawford, Editor
March Calendar – Bob Sneed, Program Chair
2nd: Rural Urban Day
9th: Ana Dutra – Brazil Rotary Student Exchange
13th: Soup Kitchen
16th: New Hope Students – Guardians on Honor Flight
23rd: Megan Moorman – CHS FFA
27th: Soup Kitchen
30th: Terry Klinker – Hurricane Katrina
April Calendar – Heidi White, Program Chair
April 6: Katarina Sharp – Water conservation and rain barrels
April 13: Jan Shannon for the Uganda project
April 20: Joy Sharp from OSU Extension for Pickaway County
April 27: Kevin T. Donahue – Abe Lincoln, part 2
April 28 & 29: District 6690 Conference – Veteran's Memorial, Columbus
Upcoming Dates:
June 16, 2023 – Golf outing at Pickaway Country Club
——
Presiding: President David M. Crawford
Prayer: Dan Fouts
Piano Player: Ellery Elick
National Anthem of Brazil in honor of our speaker today
Song Leader: Jayme Fountain "Battle Hymn of the Republic" and in honor of the OSU Basketball win over Wisconsin "Sing Rotarians"
Attending: (Drexel has official list) Crawford, Nemes-Crawford, Poling, Spangler, Fouts, Wilson, Canfield, Palm, Johnson, Routt, Riegel, McCrady, Hedges, Mavis, Dean, Montgomery, Ellis, Dailey, Beavers, Elick, Liddy, Sneed, Reitano, Robinson, Horning, McIlroy, Brown, Young, T.Chamberlain, D.Wolfe, Droste, Radcliff, C.Neff, K.Neff, Foster, Fountain, Hafey, Rawlins, E.Liggett, McNemar, Hooks, B.Tootle, Mabe, Blanton
Guests: Dan Dailey introduced his wife Donna; Jayme Fountain brought her family; Paula Routt introduced Trisha Johnson; Gary Dean introduced Tom Duvall; Earl Palm introduced Cindy Palm
Students: from Teays Valley – Pam Younkin introduced Audrey Kepler and Dominic Doan. We thank the students for fitting us in their schedule today – they were off to donate their first pints of blood at the school blood drive! Well done Audrey and Dominic!
New Member Day! We welcome Karlyn Neff today with her sponsors Carly Neff and Heidi White. You see Karlyn behind the counter at Schieber's Pharmacy.
New Member application approved by the board: Paul Vitartas, principal of Ralph Starkey High School at the Department of Youth Services has been approved for membership by the board. His sponsor is Ty Ankrom.
From district Governor Price Finley: Thank you to those Circleville Rotarians who made a contribution to the 125 Club! Donate to The Rotary Foundation by giving at least $125, with $100 to go to the Annual Fund and $25 to go to the PolioPlus Fund and become a member of the District 6690 125 Club for 2022-23, and get a cool pin! Donate online at www.givebutter.com/125_club or contact your club president. Thank you Dannie Fouts, David M. Crawford, Jayme Fountain, Judy Wolford, Norman Wilson, Marie Nemes-Crawford, Robert Sneed, Robert Tootle, Robert Liggett, Tyrus Ankrom
Announcements
Rural Urban Day lunch was a great success with 50 guests along with 41 members. Thank you to Ellery, Judy, Warren, Fred and Rick
Service Above Self nominations are being taken. Please see your email for the application or ask David for a printed copy. Deadline for submissions is April 10th. Selection committee is Bill Stout, Michele Lanman and Ty Ankrom.
Paula Routt introduced "March Madness for Women" the state-wide service project and contest collecting toiletry items for women. We will be collecting deodorant, shampoo, soap, wipes, tampons, sanitary pads, incontinence products through the month of March. Monetary donations can be given to Paula/Angie/Marie and they will shop for you.
Charlie Hedges – Norm Wilson presented with his Paul Harris +1 pin
SAA: Don McIlroy
Birthdays/Anniversaries/how many joined in March?
CHS State of the School report was an excellent – any grads of CHS?
Don introduced a new game: "How well do you know your Rotarian?" It didn't make one dollar, but it was fun!
Scholarship Drawing: Tony Chamberlain was the winner of the drawing $27. The jackpot is $1,013 and it continues!
Program: Ana Dutra – Brazil Rotary Student Exchange
"One of my biggest dreams was to be part of an exchange program and my family has been so supportive"
Ana's mother is a Rotarian in Brazil and Ana is involved in Interact and plans to be in Rotaract in college
18 exchange students from Brazil are in 6 different countries currently
Brazil is the biggest country in South America with 27 states
Soccer is the most famous sport in Brazil
Economy in Brazil is agricultural along with steel and metal industries
Sao Paulo has 12.4 million residents
Rio: 6.78 million residents. Used to be coffee producers, but warmer now and that is not good for coffee beans
Tourism is large and getting bigger
Catholic Religion is the religion of the country
Carnival is the main festivity in Brazil "The Greatest Show on Earth". Jennifer Jones was in Brazil for Carnival. Starts 44 days prior to Easter.
Only country to have 5 World Cup titles
Two of the service projects for her Interact club – 1. teaching people how to sew. Made masks for pandemic 2. Collect soda pull tabs and plastic bottles to turn in for wheelchairs donated to a local hospital
Brazil has mandatory English classes in school
Ana plans on journalism as a career and will go to OU for a campus visit in hopes of studying in the USA
**********
In appreciation of this year's speakers sharing their time & efforts, donations to Pickaway Pathways for Success will be made in their names.