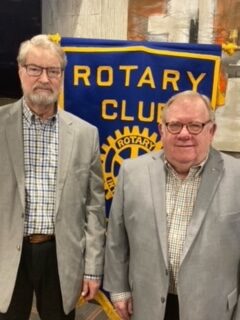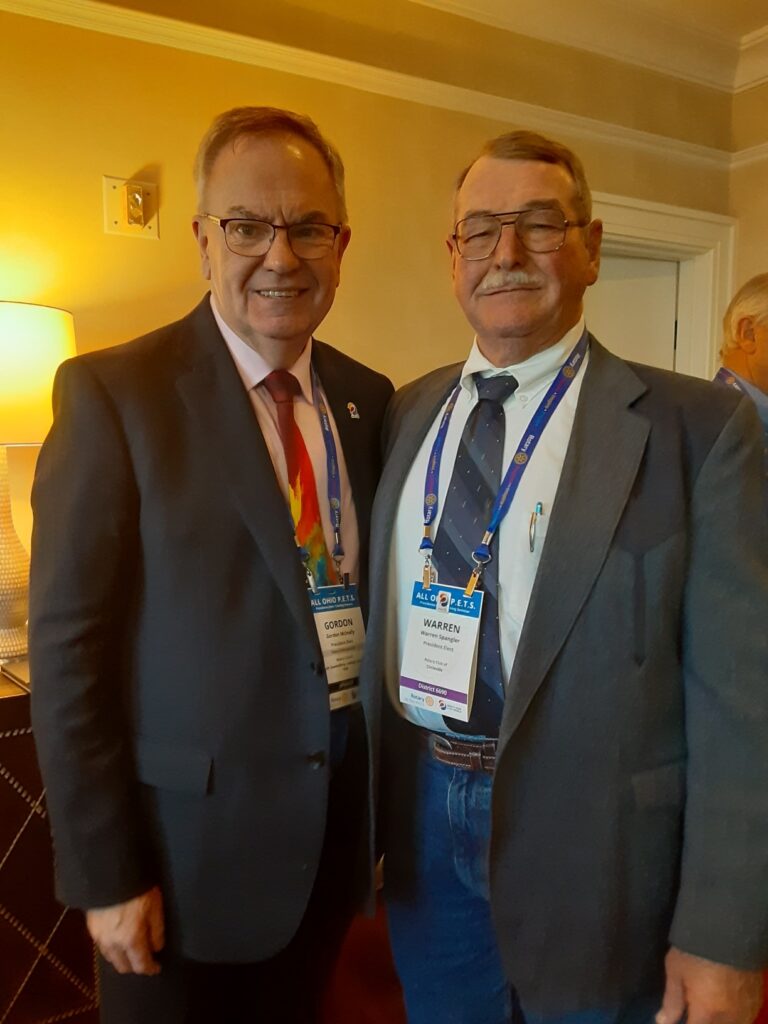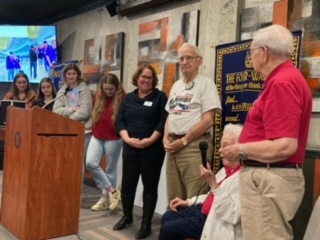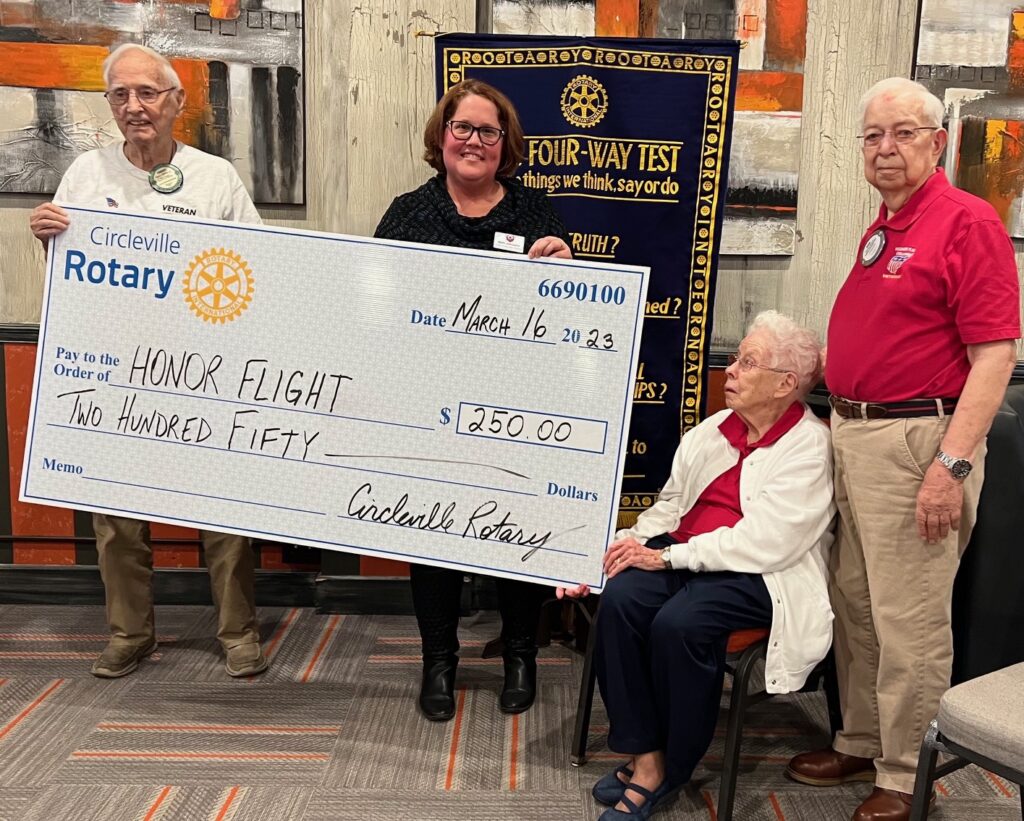 03/16/2023
Marie Nemes-Crawford, Editor
March Calendar – Bob Sneed, Program Chair
2nd: Rural Urban Day
9th: Ana Dutra – Brazil Rotary Student Exchange
13th: Soup Kitchen
16th: New Hope Students – Guardians on Honor Flight
23rd: Megan Moorman – CHS FFA
27th: Soup Kitchen
30th: Terry Klinker – Hurricane Katrina
April Calendar – Heidi White, Program Chair
April 6: Katarina Sharp – Water conservation and rain barrels
April 13: Jan Shannon for the Uganda project
April 20: Joy Sharp from OSU Extension for Pickaway County
April 27: Kevin T. Donahue – Abe Lincoln, part 2
April 28 & 29: District 6690 Conference – Veteran's Memorial, Columbus
Upcoming Dates:
June 16, 2023 – Golf outing at Pickaway Country Club
——
Presiding: President David M. Crawford
Prayer: Joe McNemar
Piano Player: Ellery Elick
Song Leader: Heidi White selected "Irish Eyes Are Smiling"; "Rotary Will Go Round The World"
Attending: (Drexel has official list) Crawford, Nemes-Crawford, Poling, Spangler, Ankrom, Beavers, Bidwell, Brown, Canfield, C.Chamberlain, T.Chamberlain, Colburn, Dean, Elick, Fouts, Hedges, E.Liggett, Mavis, McCrady, McIlroy, McNemar, Montgomery, Palm, Radcliff, Riegel, Robinson, Rothe, Sneed, D.Webb, White, Wilson, D.Wolfe, Wolford, Simmons, Catlos, Layton, Hafey, Reitano, Blanton, Liddy, Routt, Duvall
Guests: Paula Routt introduced her dad, Paul Vance; Tony Robinson introduced his wife Vickie; Bob Johnson introduced his wife of 68 years, Marilyn; Ty Ankrom introduced Terry Thoren
Students: from New Hope Christian Academy are presenting our program today
New Member Day! We welcome Tom Duvall today and thank Gary Dean for being his sponsor. Tom is currently serving on Circleville City Council and is retired from PPG Global Director.
Announcements
Warren Spangler attended the All-Ohio President Elect Training Session (PETS) this past weekend.
Board meeting is Tuesday, 11:30am at Watt St.
Tony Robinson: This Saturday is the Four Way Speech Contest – 11 students will be competing at the library on N. Court. Starts at 10am if you can make it to cheer the students on.
Service Above Self nominations are being taken. Please see your email for the application or ask David for a printed copy. Deadline for submissions is April 10th. Selection committee is Bill Stout, Michele Lanman and Ty Ankrom. Mail applications to Bill or drop off at his house.
Joe McNemar: Have a meal at City BBQ on March 31st between 11am-8pm and tell them you are there for the Boy Scout Troop 52 fundraiser. Proceeds will help scouts attend Camp Falling Rock this summer.
Paula Routt : "March Madness for Women" We helped our district win the statewide contest this weekend at All Ohio PETS and are now competing against clubs in our district. Items being collected are deodorant, shampoo, soap, wipes, tampons, sanitary pads, incontinence products until March 30th. Monetary donations can be given to Paula/Angie/Marie and they will shop for you. If you would like to donate and cannot attend the meeting, please drop off items at the Crawford's.
April 28/29 – District conference in Columbus. Please see your email from Governor Price Finley. Rotary6690.org to register.
Photo's will be in the new directory – make sure you like yours or see David for a retake.
SAA: Bob Sneed
National "Everything you do, it's right" day & Artichoke Heart's Day
Police chief with colorful past is related to Bob McCrady
KNB in the news – Heidi
Tim Colburn's picture in the paper as new Health Commissioner
CHS wrestler won Wrestling State Championship
New Hope won Basketball championship
St.Patty's Day celebration – Leprechaun's occupation is shoe maker
Scholarship Drawing: Tim Colburn was the winner of $33 – AGAIN, (3 out of the last 6 drawings!) but doesn't get the big bean. The jackpot is $1,046 and it continues!
Program: New Hope Christian Academy Seniors introduced by Allison Catlos: Ella Hood, Maren McCallister, Effie Tsitroulis, Jenna Tripp
The students were Guardians on Honor Flight Mission 119, November 2022
The mission of Honor Flight is to honor America's senior Veterans with a free trip to Washington D.C. to visit the nation's memorials. To help them share their stories. To celebrate and affirm their service and homecoming.
Honor Flight is a 501(c)(3) nonprofit organization funded by charitable contributions
Guardians are encouraged to meet their veterans before the flight and go through a day of training to prepare. Maren's veteran even comes to her basketball games and will be invited to her graduation party.
Monuments visited were emotional for the veterans
People wait for the veterans at the monuments to welcome them
Welcome home tunnel of people at the Columbus airport ends the day
Beth Johnson, Executive Director of Honor Flight Columbus, explains the Columbus HUB started in 2007. There are 129 hubs in 43 states. Those HUBs West of the Mississippi make it a 2-3 day trip.
America's senior veterans 65 years and older are eligible for the trip. Honorflightcmh.org for more information and the application.
Guardians pay for their own way and volunteers are always welcomed – see the website to sign up
Circleville Rotary donated $250 to Honor Flight Columbus and Thank You notes for the next Mission
**********
In appreciation of this year's speakers sharing their time & efforts, donations to Pickaway Pathways for Success will be made in their names.