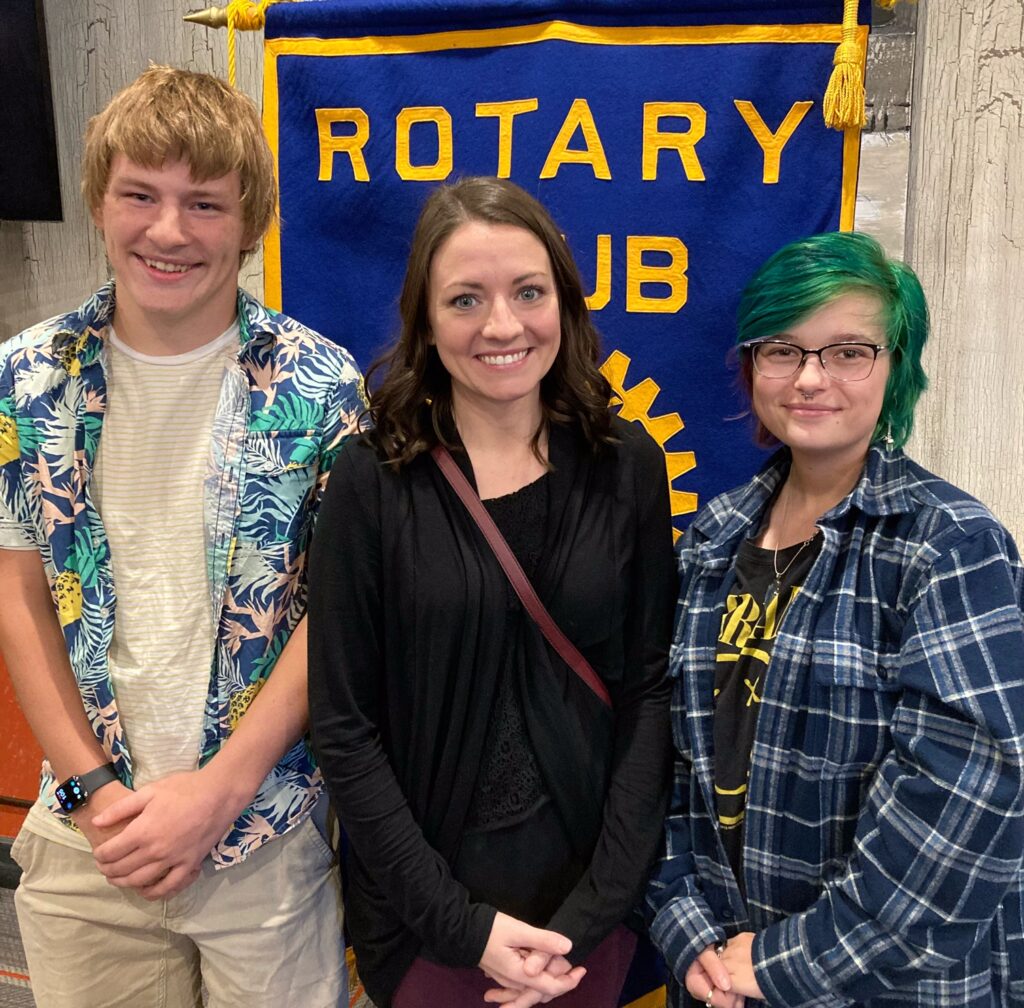 ---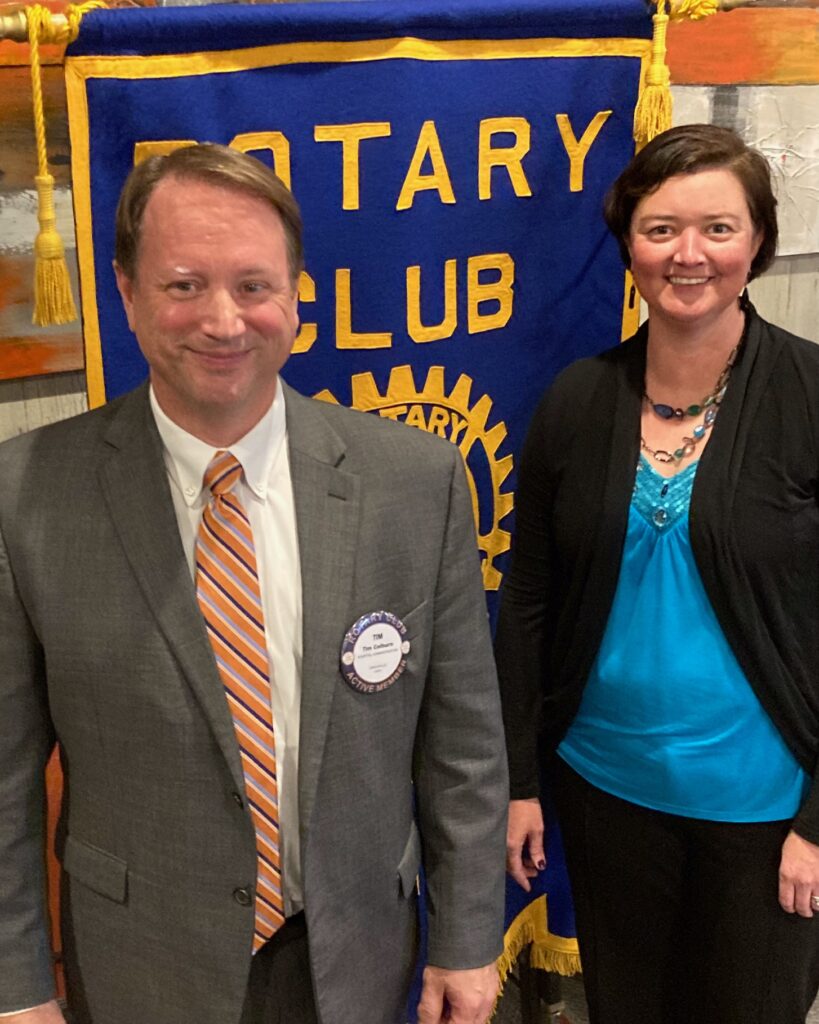 November Programs – Judy Wolford, Chair
3rd – Larry Logan, Ted Lewis Park
10th – Tim Colburn, OhioHealth Berger Hospital update
17th – Jeff Phillips, YMCA update
24th – Happy Thanksgiving – no meeting
December Programs – Heidi White, Chair
1st – Blanket Project – 39 blankets to tie for CASA
8th – District Governor, Price Finley
15th – Sounds of the Season
17th – Wreaths Across America at Forest Cemetery
22nd – No Meeting – Merry Christmas
29th – No Meeting – Happy New Year
Upcoming Dates:
January 28, 2023 – Dueling Piano's – Sunrise Rotary fundraiser
June 16, 2023 – Golf outing
Presiding: President David M. Crawford
Prayer: Tony Robinson
Piano Player: Ellery Elick
Song Leader: Carly Neff selected "Battle Hymn of the Republic" in honor of Veteran's Day and "Sing Rotarians"
Students: Logan Elm Students today introduced by Jessica Morgan, Jake VanGundy and Tim Miller
Attending: (Drexel has official list) Crawford, Poling, Nemes-Crawford, McCrady, Canfield, Elick, Wilson, Dean, Foster, Montgomery, Robinson, Spangler, Fullen, Palm, Schreiner, Ellis, Hedges, Riegel, T.Tootle, McIlroy, Colburn, Ankrom, Sneed, Fountain, Rawlins, D.Wolfe, Droste, Radcliff, D.Webb, Neff, E.Liggett, McNemar, Layton, Rothe, Brown, Hooks, Mabe, Beavers
November Birthdays: 5th-Monica Justinger; 8th-Jonathan Davis; 25th-Dick Gerhardt;
November Anniversaries: 25th-Ned & Faye Schreiner;
Perfect Attendance pins for 2021-2022 were presented a few weeks ago to the following Circleville Rotarians
1 year: Marie Nemes-Crawford, John Ellis, Rob Radcliff
3 years: David M. Crawford
4 years: Gary Montgomery, Warren Spangler
7 years: Jayme Fountain
8 years: Joe McNemar
12 years: Carly Neff
18 years: Bob Sneed
22 years: Ty Ankrom, Bob McCrady
26 years: Jean Droste
27 years: Ellery Elick
31 years: Harry Canfield
32 years: Dan Fouts, Ned Schreiner
33 years: Charlie Hedges
38 years: Ned Riegel
39 years: Dick Fullen
43 years: Drex Poling
Announcements
Executive Board meeting next Tuesday
December 1st meeting we will be voting on Rob Radcliff for vice president and new board members Connie Chamberlain and Patty Rothe
Gary Montgomery – Dec. 17th is Wreaths Across America at Forest Cemetery. Payment due next week – $15 per. Checks made out to SAR Camp Charlotte.
Nov. 17th, after the meeting is Pumpkin Show booth wrap up meeting
Ty Ankrom – Please pick up your shirts and another order is being compiled
Foundation Giving month – please think about supporting the Rotary Foundation by either Paul Harris fellow or 125 Club. Charlie Hedges or Jayme Fountain can help with answers to questions.
Gary Montgomery – Jingle Bell Tea at Mt. Oval on December 11th. Contact Historical Society office for tickets
SAA: Don McIlroy
Update from last week – Earl Palm is the longest member of our Rotary club – not Ned Schreiner
Kia or Hyundai – any owners without security? Pay $1
New license plate – PMPBOB. Official Pumpkin Show plate. Pay $1.
Nov. 11, 1992 Church of England voted for women to become priest
Nov. 13, 1927 – Holland Tunnel opened under what river? Hudson
Scholarship Drawing: Eric Liggett was the winner of the drawing $20. The jackpot is $732 and it continues!!
Program: Tim Colburn – CEO of OhioHealth Berger Hospital
35,000 people employed by OhioHealth with over 2,400 volunteers
Berger numbers: 83,000 outpatient visits and 22,000 emergency visits in a year
12 facilities owned by OhioHealth throughout Ohio currently
Charlie Hedges convinced Berger to follow the Leapfrog Hospital Survey years ago. It uses national performance measures to evaluate individual hospitals on safety, quality, and efficiency. Berger has consistency received an A rating.
OhioHealth is a non-profit entity
FY21 $6 million community care Berger contributed. Medicare/Medicaid does not cover all costs of care.
Berger ED visits up 30%
$2 million upgrade for robot surgeries
$8 million upgrade coming for operating rooms
30 plus new local providers
1 doctor and their 5 support people can serve 3,000 patients
OhioHealth is expanding into Chillicothe, hospital based care will come back to Berger
What's next? Circleville Urgent Care, Destination for Local Care, Enhancing Women's Health
**********
In appreciation of this year's speakers sharing their time & efforts, donations to Pickaway Pathways for Success will be made in their names.