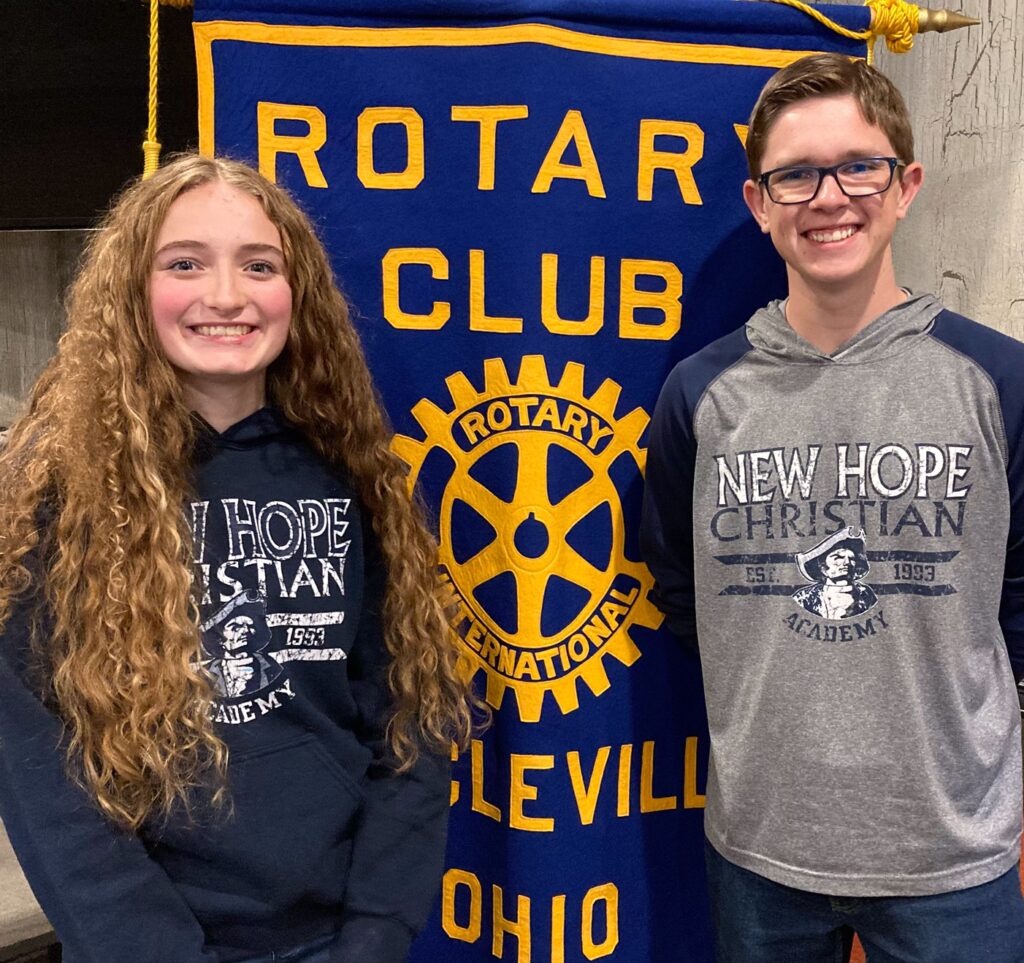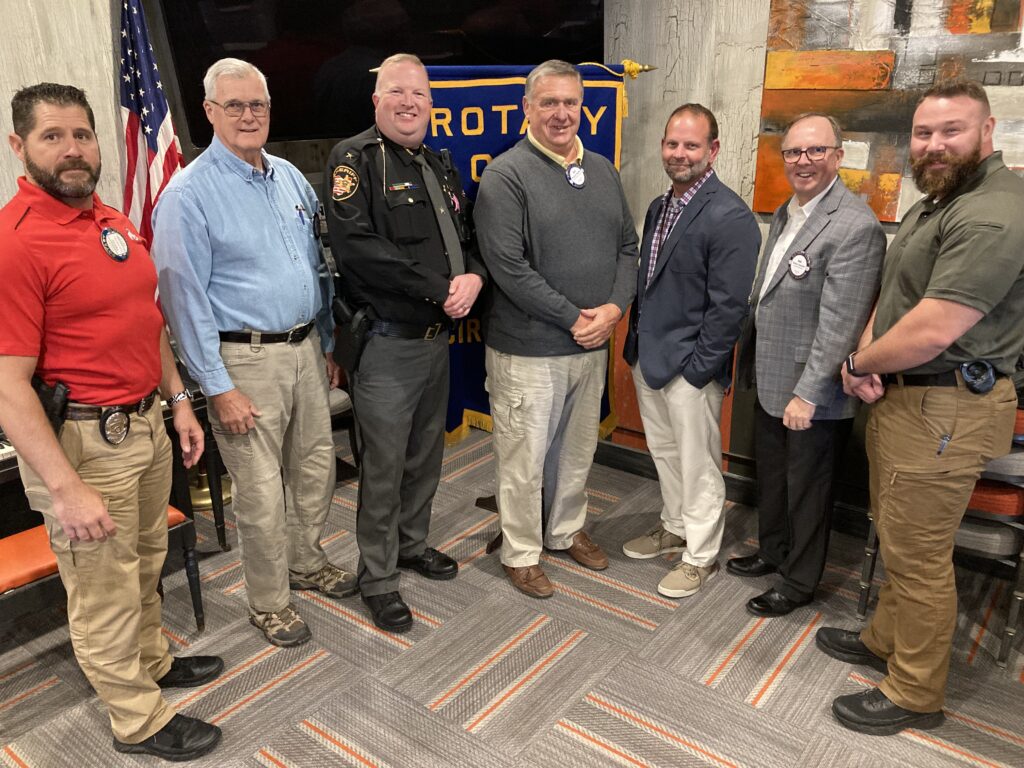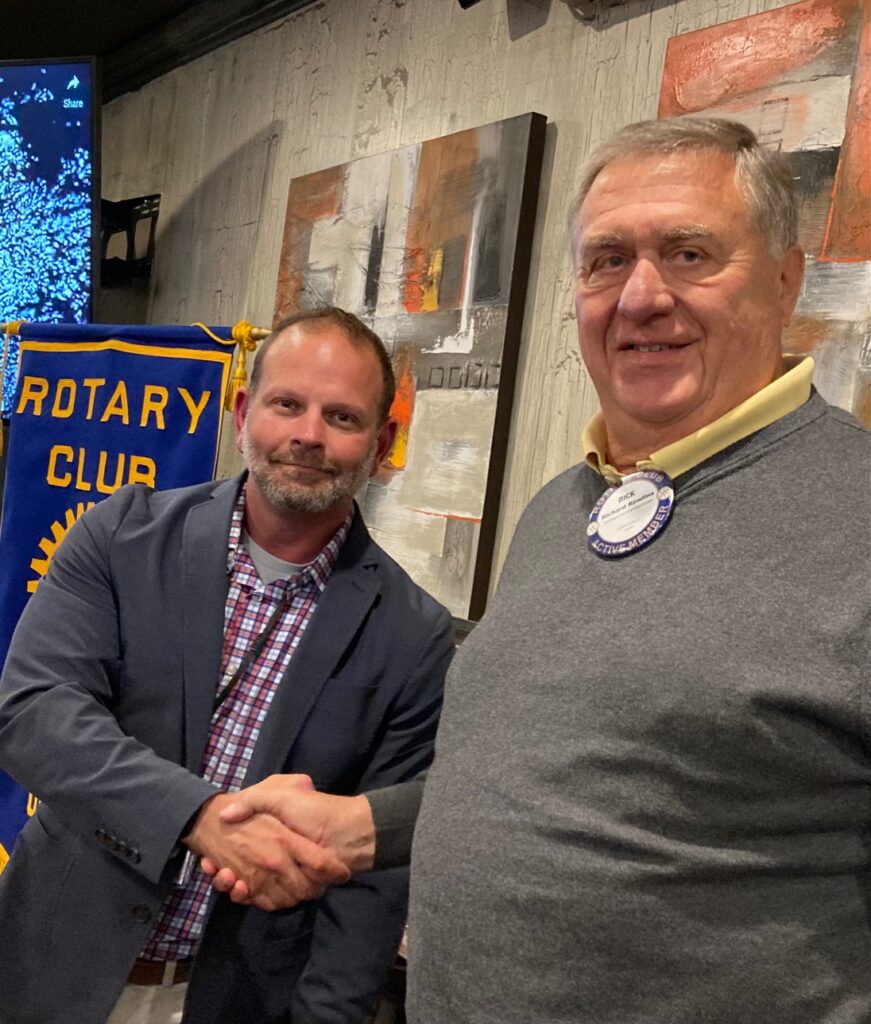 November Programs – Judy Wolford, Chair
3rd – Larry Logan, Ted Lewis Park
10th – Tim Colburn, OhioHealth Berger Hospital update
17th – Jeff Phillips, YMCA update
24th – Happy Thanksgiving – no meeting
December Programs – Heidi White, Chair
1st – Blanket Project – 39 blankets to tie for CASA
8th – District Governor, Price Finley
15th – Sounds of the Season
22nd – No Meeting – Merry Christmas
29th – No Meeting – Happy New Year
Upcoming Dates:
June 16, 2023 – Golf outing
Presiding: President David M. Crawford
Piano Player: Ellery Elick
Song Leader: Rick Rawlins selected "Let There Be Peace On Earth" and "R-O-T-A-R-Y"
Visiting Rotarians: not today
Guests: Rick Rawlins introduced John Vance and Dan Fouts introduced Sheriff Hafey
Students: Sophomore students from New Hope, Allison Catlos introduced us to Olivia Holbrook and Noah Hamilton
Attending: (Drexel has official list) Crawford, Poling, Nemes-Crawford, Droste, Rawlins, Catlos, Fouts, Canfield, McNemar, Pelcic, Elick, Radcliff, D.Wolfe, Robinson, Montgomery, T.Tootle, Foster, Brown, Mavis, B.Tootle, Riegel, McCrady, R.Wolfe, Hedges, Palm, B.Liggett, Kramer, Dean, Fullen, Schreiner, Simmons, McIlroy, D.WEbb, E.Liggett, White, Ankrom, Hooks, Wolford, T.Chamberlain, Patterson, Mabe, Gerhardt
October Birthdays: 28th-Dick Fullen
October Anniversaries: 28th-Tony & Kelly Chamberlain;
November Birthdays: 5th-Monica Justinger; 8th-Jonathan Davis; 25th-Dick Gerhardt;
November Anniversaries: 25th-Ned & Faye Schreiner;
Announcements
Tony Robinson – Dec. 17th is Wreaths Across American at Fortest Cemetery. Sign-ups for a wreath, $15 per. Checks made out to SAR Camp Charlotte.
Soup Kitchen thank you's to Daryl Wolfe, Rob & Dodie Radcliff, Bob Sneed, David & Marie Crawford. 60 meals were served including Pumpkin Pie.
Circleville Herald has Noon Rotary featured in the week of Pumpkin Show including our Imagination Library ad
Nov. 17th after the meeting is Pumpkin Show booth wrap up meeting
Big Wheel Race – 44 racers. Scioto Post was live on the racecourse, check out their Facebook feed
Thank you to Ellery and Dan for the Health Care Logistics After Hours
Ty Ankrom – Please pick up your shirts
Log House update – foundation done and first layer of logs started
Charlie Hedges – November is Foundation month. Fred Mavis receives his Paul Harris +1. Congratulations Fred, it is in honor of his late wife, Carla.
SAA: Tom Tootle
Congrats Bob Liggett on your first place pumpkin
Pumpkin is a fruit – Bob McCrady got it right
What state grows the most pumpkins? Illinois
Halloween – what country originated it? Ireland
Peanuts cartoon – always looking for the Great Pumpkin
Number of different M&M's – 25
Most popular candy passed out? M&M's
Scholarship Drawing: Daryl Wolfe was the winner of the drawing $17. The jackpot is $692 and it continues!!
Program: Dan DeVille, Assistant Chief Deputy U.S. Marshal
Dan presented Rotarian Rick Rawlins with one of his agency's first awards recognizing those who helped support the Marshal Service's bomb dog program. Rawlins is a former official with the Bureau of Alcohol, Tobacco, Firearms and Explosives, which provided the explosive-trained bomb dogs.
There are 94 judicial districts in the country, Ohio is split into 2
Dan is responsible for 48 southern counties
Dan's agents can also be called on for Supreme Court protection detail
1789 was the start of the Marshal service under George Washington
ATF and Secret Service both sprung out of Marshal Service
In southern Ohio, holding $25 million in assets until court cases are done
Witness protection program nationwide – 17,000 people with majority being in prison
Threat investigation has really picked up with judicial threats
91% of warrants are local
Newest mission is human trafficking and missing children
U.S. Marshal Service part of Department of Justice
**********
In appreciation of this year's speakers sharing their time & efforts, donations to Pickaway Pathways for Success will be made in their names.